The Chester County Youth Orchestra provides an opportunity for students in grades 6-12 to experience the joy of making music with a full symphony orchestra, and allows them to meet fellow musicians from school districts across Chester County. The Orchestra is sponsored by the Chester County Intermediate Unit.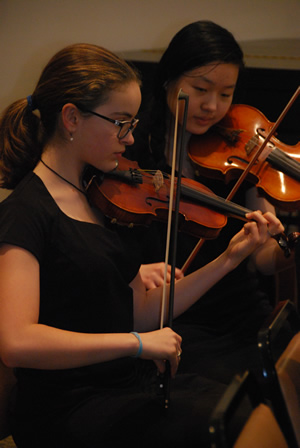 CCYO is dedicated to giving young musicians in Chester County the chance to grow musically by performing challenging works from the standard orchestral literature as well as music from the cinema and the Broadway Stage. These talented students hone their performance skills and learn a wide variety of music. As members of the CCYO, students gain experience playing music of many different composers, styles, and time periods.
The orchestra is composed of approximately 75 students from more than 25 different schools throughout Pennsylvania's Chester and Delaware Counties. Students are accepted by audition only.
The Orchestra was established in 1993 and has performed in many different venues throughout Chester County, including regular performances at Freedom Village and Tel-Hai Retirement Communities. Under the leadership of Dr. Mark Belczyk and Mr. Tom Breton, the Orchestra has also taken several trips. In 1998 and 2000, they participated in the Reading Symphony Youth Orchestra Festival. They have performed several times on the Boardwalk at the Ocean City Music Pier in New Jersey. In 2002, the CCYO traveled to Baltimore's Inner Harbor and performed at the Joseph Meyerhoff Symphony Hall. In 2002 and 2004, the CCYO was invited to participate in recording sessions at the QVC studios, which were aired worldwide on December 24 and 25 in 2002, 2003 and 2004.
Each spring, CCYO performs a benefit concert to raise funds for local non-profit organizations. A highlight of the 2006 season was a full orchestra rehearsal with DE Symphony Orchestra Conductor David Amado!