Ms. Katrina Kelly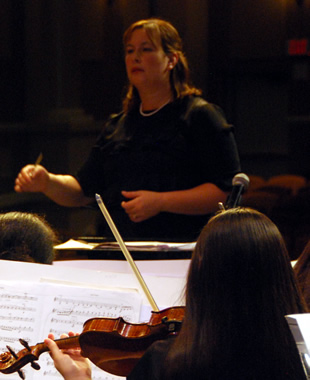 Katrina Kelly grew up in New Hampshire where influenced by her musical family, she chose to play the viola in 4th grade. She continued studying and performing on the viola through her middle and high school years.  In high school she was selected for all-state all four years.  She also began running her high school orchestra rehearsals.  Kelly attended Ithaca College for her undergrad where she double majored in music education and music performance.  She studied with violist, Debra Moree.
During her college summers she participated in multiple camps and performing ensembles. In the summer between her senior year in high school and freshman year of college Kelly attended the Interlochen Arts Camp in Michigan on a full scholarship. The following summer she performed 9 different Gilbert and Sullivan productions with the Ohio Light Opera Company.  Another summer she landed a scholarship program with the National Symphony.  During her college years she was exposed to and worked with various string professionals including, Robert Gillespie and Patricia McCarty.  She was principal violist for Ithaca's chamber orchestra and symphony orchestra her junior and senior years.
After college, Mrs. Kelly began her teaching career working in the Hollidaysburg Area School District in Hollidaysburg, PA as a junior high orchestra director.  Since 2000, Mrs. Kelly has worked in the West Chester Area School District in West Chester, PA as a middle school orchestra director. She also conducts the WCASD Select Strings Orchestra, which has earned many honors during her tenure including being selected to perform at the state music conference four times. Mrs. Kelly has been active in the PMEA organization, hosting various string fests and presenting string sessions at two of the fall inservices.  She conducted the PMEA 5/6 String Fest in 2011.  In the summer of 2016 Mrs. Kelly started her master's program in conducting at Messiah College in Grantham, PA.
Besides teaching in the WCASD, Mrs. Kelly performs often with various ensembles including the Chesco Pops, the Kennett Symphony and various other community/church ensembles throughout the area.  She lives in West Chester and enjoys spending time with her husband, Martin and their three children, Katie, Bryce and Addie all of whom play a string instrument. She loves to read, hike, and is really looking forward to getting to know and work with all of the fabulous musicians in the Chester County Youth Orchestra.
Mr. Mark Cellini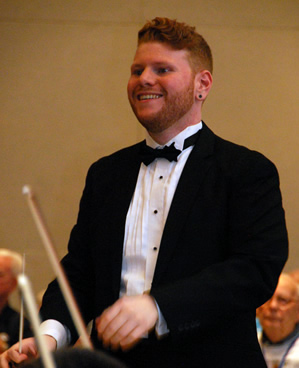 Mark Cellini grew up in West Chester, PA and attended West Chester East High School. He went on to study at West Chester University, where he graduated with a B.M. in Music Education and a minor in Music History. While at WCU, Mr. Cellini performed with many different ensembles, including Symphony Orchestra, Chamber Orchestra, Wind Ensemble, Chamber Winds, Marching Band, Mastersingers Choir, as well as a variety of other chamber groups. This past summer, Mr. Cellini completed his studies and earned his Master's degree in Orchestral Conducting from Messiah College.
Mr. Cellini began his musical instruction in the third grade with the cello.  In high school, he began playing percussion in the marching band, bassoon in concert band, and began singing in the choir.  Mr. Cellini has studied cello privately with Patricia Daniels, Charles dePasquale, and Ovidiu Marinescu.  He has studied bassoon with Jon Gaarder, voice with David Sprenkle, and conducting with Andrew Yozviak, Ovidiu Marinescu, and Timothy Dixon.
Mr. Cellini began his teaching career in Northeast Philadelphia where he taught K-8 general music, band, and orchestra. He is now in his third year teaching at Great Valley Middle School, where he teaches general music and orchestra.  This past year, Mr. Cellini also conducted the pit orchestra for Great Valley High School's musical production of Pippin!
Mr. Cellini is an active performer as a cellist and tenor, appearing with groups such as the Immaculata Symphony, The Brandywine Singers, Brandywine Symphonic Chorale, the ChesCo Pops Orchestra, and various other community/church groups throughout the area. Through his performance experiences, Mr. Cellini has had the opportunity to perform at the Kimmel Center, Carnegie Hall, and most recently the White House!