Auditions for the 2017-2018 Season
Monday, January 8, 2018
6:00-9:00 pm
Location TBA
Auditions for the following instruments may be scheduled by appointment only.  We have openings for:

Flute, Oboe, Bassoon, ALL Brass Instruments, & ALL String Instruments.
Please contact Jill Crawford with any issues scheduling an audition.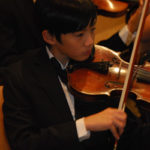 Acceptance into the Chester County Youth Orchestra is by audition only. Open auditions are held for all instruments in May, and auditions for specific instruments needed by the orchestra are held in in September and January. The Orchestra currently accepts talented musicians between the ages of 12 and 18.
Auditions are by appointment only.
Applicants should prepare the following for their audition:
Major Scales: We will be following the PMEA District 12 policy for scales. Please prepare scales accordingly.

This document covers key, octave, rhythm/tempo, and style (slurred/separate) requirements!

Prepared Piece:  Prepare a solo piece or a movement from a concerto from the standard repertoire for your instrument.

The conductors will choose a section of what you have prepared to hear during the audition.
Pop music and school band/orchestra parts are not suitable audition pieces.
Please bring a copy of your piece with you to your audition. Your copy will be returned at the end of the audition.

 Sight Reading:  Students will be provided with a short excerpt to sight read.
 Percussionists– please prepare the following:

Snare Drum

A short excerpt from an etude, solo literature, or a band/orchestral piece.
Sight Reading (a short excerpt will be provided by the directors)

If you are able, also prepare an audition on Mallet Percussion:
An audition should last a total of approximately 10 minutes.
For questions about the audition process, please contact our Music Directors, Mark Cellini or Katrina Kelly.